The future home of the Gay Head Light in Aquinnah will be about 140 feet inland from the westernmost tip of the Island.
The Gay Head Lighthouse advisory committee has been working since early last year to explore options for relocating and restoring the historic lighthouse, which now stands about 50 feet from the cliff.
Members have spent the last two months studying alternative sites in the general area of the lighthouse. On Tuesday, committee member Len Butler presented the results to the Aquinnah selectmen, who unanimously approved the committee's recommendation.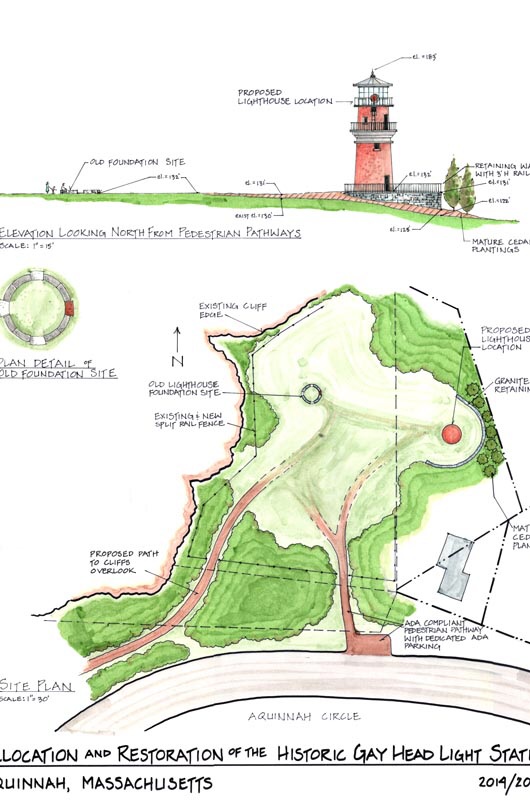 Two of the sites were eliminated early on, since they did not meet the Coast Guard's requirement that the lighthouse be high enough to serve as a navigational beacon. A site near the shops and restaurants on Aquinnah Circle was also eliminated, since it would not have allowed for a public space surrounding the light.
The chosen site is on property that was purchased by the town this year using Community Preservation Act funds. It is slightly lower in elevation than the current site, but will be raised to accommodate for the difference.
"This maintains the same orientation in terms of the Circle, so that it doesn't change the perception of the light as you approach it up State Road, or as you come up Moshup Trail, or at any vantage point from the ocean," Mr. Butler said. "It's still in the relatively same position."
Access to the site will also be similar, although a handicapped-accessible pathway and parking lot will be added to comply with the Americans with Disabilities Act.