Filmmakers Liz Witham and Ken Wentworth of Film-Truth Productions are excited to announce the launch of the "Keepers of the Light – The Gay Head Lighthouse Documentary and Historical Multi-Media Exhibit" on Sunday, August 7th, 2016, National Lighthouse Day. The Opening Celebration from 6pm to 9pm, will be kicked off with a special lighthouse themed musical performance by Kate Taylor and friends. The filmmakers will also screen selected scenes from the forthcoming documentary and make remarks about the film and the exhibit.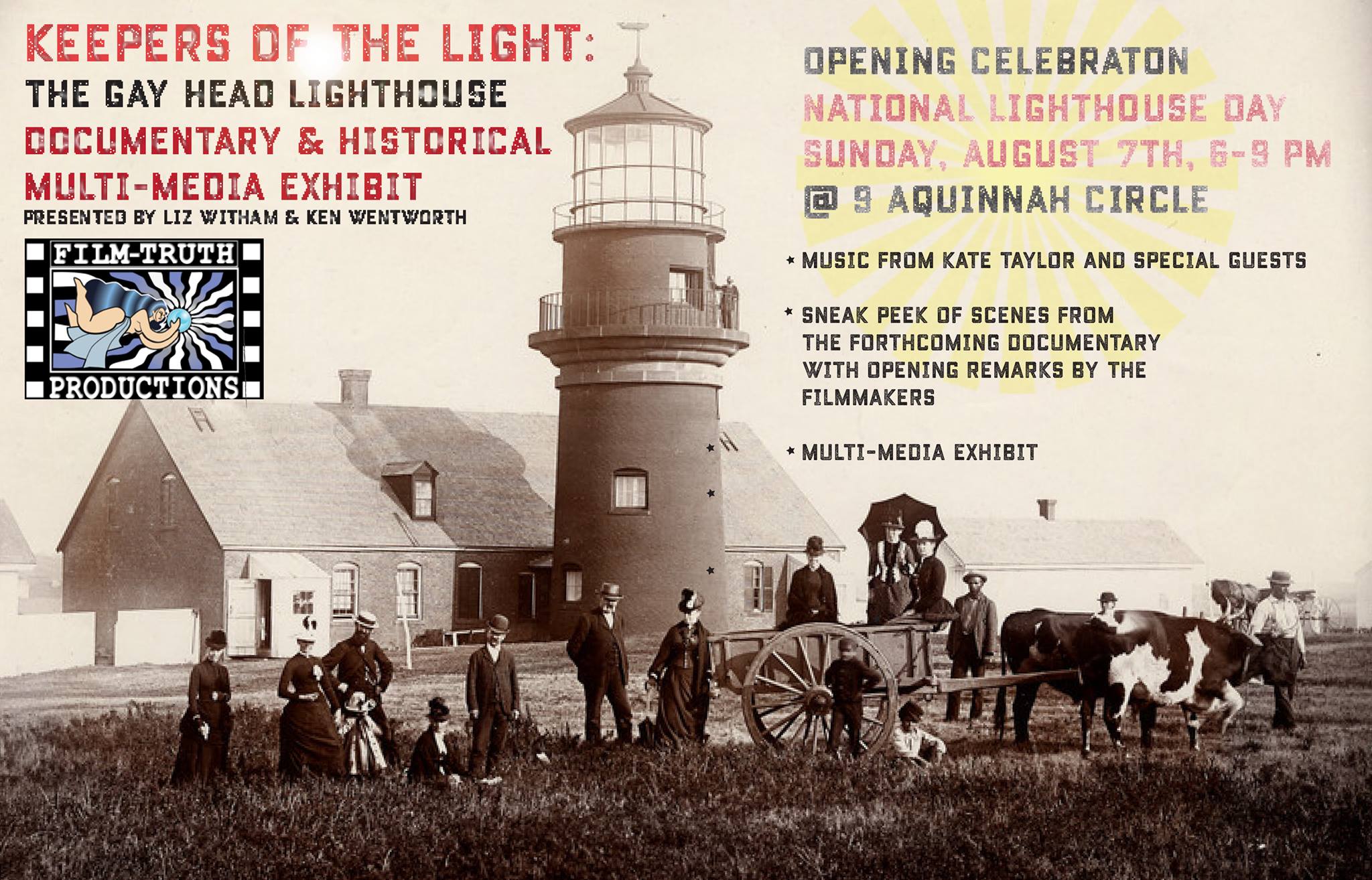 This year's annual National Lighthouse Day marks a milestone for our nation as we celebrate the 300th year of lighthouses in America. It is also significant for our community, as it comes almost a year to the day since the Gay Head light was re-lit in its new location, and also comes at a time when the community is celebrating the newly formed Aquinnah Cultural District. Come experience the history of one of America's most storied lighthouses in this state of the art multi-media exhibit. The Keepers of the Light – The Gay Head Lighthouse Documentary & Historical Multi-Media Exhibit, housed in the historic Manning Building in front of the Gay Head Lighthouse, marks the first time this location, recently acquired by the Town of Aquinnah, has been open to the public in over a decade. The exhibit has a screening room where visitors can catch a sneak peek of several scenes from the filmmaker's forthcoming documentary "Keepers of the Light." There is a special exhibit room which currently features time lapse photography, architectural renderings, photographs and videos of the recent engineering marvel of the lighthouse relocation, and celebrates this historic milestone for the Gay Head light and the island community. The exhibit also features historic and archival photographs that help bring the history of the light to life.
The exhibit will be open from 10am-4pm, Wed-Sun, through Labor Day, and on the weekends in September. The schedule is subject to change. Please visit http://gayheadlighthousedocumentary.org for the most up to date schedule and details.
The exhibit is offered free to the public by Film-Truth Productions as an extension of the outreach and fundraising campaign for the documentary film.Contact Liz Witham at liz@film-truth.com or 508-645-3030 for more information