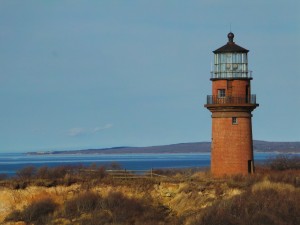 Saturday, April 11 is Final Chance to Visit Lighthouse in Its Current Location
Islanders will have a final opportunity to visit the Gay Head Lighthouse in its current location on Saturday, April 11 when lighthouse keepers Richard Skidmore and Joan LeLacheur will open the building from 2 to 5 p.m. Admission will be free.
The Gay Head Light open house will be the culmination of a week of activity to prepare for the actual relocation of the island icon in late May. The U.S. Coast Guard will be erecting a temporary beacon on the Gay Head Cliffs overlook on Tuesday, April 7. The metal pole will have an LED light on top that will be illuminated and start flashing during the week of April 13, after the sweeping beacon of the lighthouse goes dark. Officials estimate the temporary beacon will be in use until the end of June.
Background
The Gay Head Lighthouse, a Martha's Vineyard treasure and one of America's 11 Most Endangered Historic Places of 2013, currently sits 46 feet (Aug 2013) from an eroding cliff, and geological experts recommend it should be moved before the area around it is not stable enough to safely do so. The Save the Gay Head Lighthouse Committee is working to save this iconic structure and its working navigational beacon, which has stood at the picturesque cliffs of the westernmost tip of the island since 1799 and was replaced with the current brick lighthouse in 1854. The committee's objective is to move and restore the Gay Head Lighthouse to a location that will sustain it for many generations. The fundraising goal to cover these costs is $3 million. For more information or to make a donation, visit http://gayheadlight.org/.
Visit the lighthouse between now and the week of April 13, when the old beacon will go dark before the move. Use the form below to send us your photos!