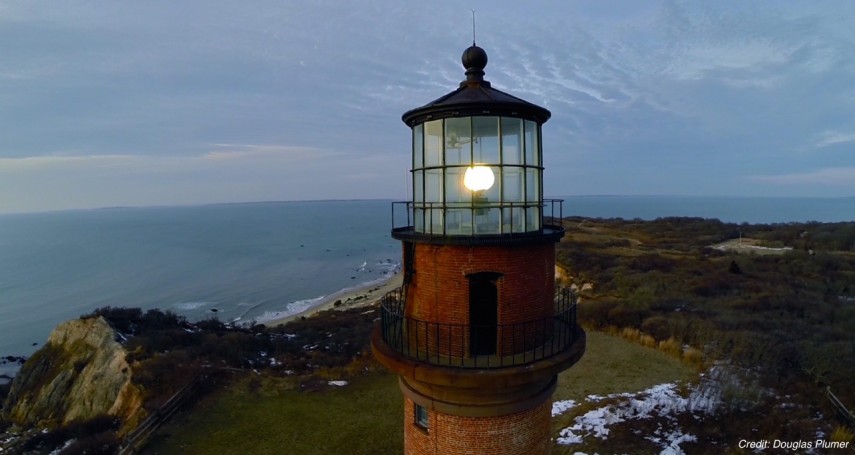 Community Celebration to Mark the Re-Lighting on Tuesday, Aug. 11
July 29, 2015 – Members of the Save the Gay Head Light House Committee announced today that there will be a celebration of the re-lighting of the 160 -year-old light house in the Aquinnah Circle on Tuesday, Aug. 11. The re-lighting will end the longest period of darkness in the history of the iconic beacon and is the culmination of an island-wide effort to save it in a successful campaign that spanned several years.
The celebration will begin at 5:30 p.m. and will include refreshments provided by local food vendors and live music performances from island musicians including The Black Brook Singers, Good Night Louise and Isaac Taylor, singing "Red Queen," an original homage to the Light. Bring a blanket and a picnic if you like.
The light house has been dark since April 16 when it was turned off in preparation for its move, 130 feet from the edge of the Gay Head Cliffs. The move was completed on May 30, 2015 after committee members successfully raised more than $3 million to fund the effort. Fund raising is continuing to address unanticipated environmental expenses.
Be in the Aquinnah Circle by 5:30 pm to see the moment the beacon is relit. Island residents and guests are invited to enjoy the celebration until 8 p.m., Aquinnah time. Free parking will be available in the Beach Parking Lot and the western end of the Circle.
Background
The Gay Head Lighthouse, a Martha's Vineyard treasure and one of America's 11 Most Endangered Historic Places of 2013, was 46 feet (Aug 2013) from an eroding cliff, and geological experts recommended it should be moved before the area around became too unstable to safely do so. The Save the Gay Head Lighthouse Committee worked to save this iconic structure and its working navigational beacon, which has stood at the picturesque cliffs of the westernmost tip of the island since 1799 and was replaced with the current brick lighthouse in 1854. The committee's objective was to move and restore the Gay Head Lighthouse to a location that will sustain it for many generations. The fundraising goal to cover these costs is $3.4 million. The move was successfully completed in June. For more information or to make a donation, visit http://gayheadlight.org/.