"Legacy of Light" will raise funds for lighthouse relocation
"…hunger for the sea's edge, the limits of the land,

            where the wild old Atlantic is shouting on the sand…"

~John Masefield
The Save the Gay Head Light House Committee, in conjunction with the Martha's Vineyard Institute for Creative Writing and the Martha's Vineyard Poetry Society, has announced the release of "Legacy of Light: Poems for the Gay Head Lighthouse," a collection of poems submitted by both Vineyard and off-island writers to celebrate the historic Gay Head Lighthouse.  The writers join a chorus of supporters raising funds and awareness to restore and relocate the lighthouse from its current location where it is endangered by eroding cliffs.
The book was edited by Alexander Weinstein, Keith Leonard and Fan Ogilvie. "Legacy of Light" is available in a limited edition hand-printed and hand-bound edition of 50 volumes in addition to a digitally printed soft cover version. All proceeds from sales of both will go toward funding the lighthouse relocation.
The Gay Head Gallery will also be displaying artwork inspired by the Gay Head Lighthouse and its predicament. A portion of the proceeds of sales of that work will be donated to the relocation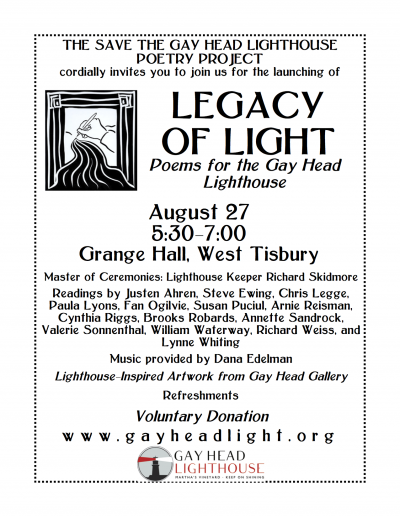 The committee also hosted a reading of the collection on August 27 at the Grange Hall in West Tisbury. Readers included Annette Sandrock, Arnie Reisman, Brooks Robards, Chris Legge, Cynthia Riggs, Ellie Bates, Fan Ogilvie, Lynne Whiting, Justen Ahren, Paula Lyons, Richard Weiss, Steve Ewing, Susan Puciul, Valerie Sonnenthal and William Waterway.